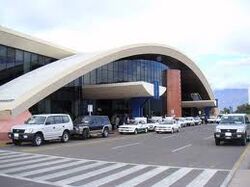 Amarillo International Airport is the only airport in Pintona. Located east of Port Benedict near the Beaches District and Newport Town, it is named after former Prime Minister Wilton Amarillo Jr. The airport has two main runways. There is a main restaurant serving local food and a McDonald's. The flag carrier of Pintona, Pintona Airlines, is based here.
Ad blocker interference detected!
Wikia is a free-to-use site that makes money from advertising. We have a modified experience for viewers using ad blockers

Wikia is not accessible if you've made further modifications. Remove the custom ad blocker rule(s) and the page will load as expected.