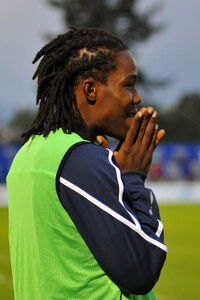 Carle Warner (born December 7, 1989) is a Pintonan football player who plays for Port Benedict FC and the Pintona national football team as a midfielder. He is the captain of Port Benedict FC, where he has played since being signed on by the club's youth scouts in 2008. He is also a notable member of the national team, known especially for his prowess at free kicks and also penalties.
Ad blocker interference detected!
Wikia is a free-to-use site that makes money from advertising. We have a modified experience for viewers using ad blockers

Wikia is not accessible if you've made further modifications. Remove the custom ad blocker rule(s) and the page will load as expected.