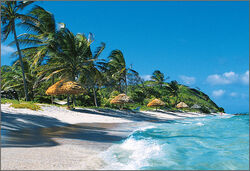 Cinco Rios is a beach in French Parish, Pintona. It is named after five small creeks that sare nearby. This is widely reputed to be the best in the whole island, along with West Beach. Here, one can find Sallyann's Cajun restaurant and a few others.
In Cinco Rios there is the famous Cinco Rios Golf & Country Club which is one of the best of the Caribbean.
The settlement has 925 permanent inhabitants, most of whom work in the tourism/service industry, though there are also some luxury houses in the area.
Ad blocker interference detected!
Wikia is a free-to-use site that makes money from advertising. We have a modified experience for viewers using ad blockers

Wikia is not accessible if you've made further modifications. Remove the custom ad blocker rule(s) and the page will load as expected.