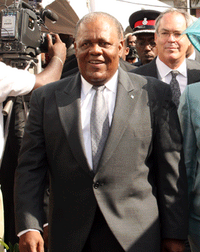 Gilbert Ronald Warren (born September 19, 1956, Bonaire Beach) is a Pintonan politician of the Centrist Party who is the former Prime Minister of Pintona between 2013 and 2018, when he defeated incumbent Prime Minister Lydia Milham's People's Party in the elections. He is a grandson of former Prime Minister Stanley Warren, but did not join Stanley's party.
Warren studied at the University of Michigan in the United States and got his doctorate at Queens University in Canada. He is a moderate centrist politician.
He married Etta Elizabeth Banks in 1988. He has two daughters: Charmaine Warren (1991) and May Elizabeth Warren (1994).