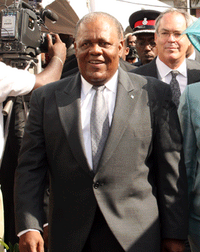 Dr. Gilbert Ronald Warren (born September 19, 1956, Bonaire Beach) is a Pintonan politician of the Centrist Party who is the Prime Minister of Pintona since January 2013 when defeating former Prime Minister Lydia Milham's People's Party in the elections. He is a grandson of Stanley Warren, but did not joined Stanley's party.
Dr. Warren studied at the University of Michigan in the United States and got his doctorate at Queens University in Canada. He is a moderate centerist politician.
He married Etta Elizabeth Banks in 1988. He has two daughters: Charmaine Warren (1991) and May Elizabeth Warren (1994).
Ad blocker interference detected!
Wikia is a free-to-use site that makes money from advertising. We have a modified experience for viewers using ad blockers

Wikia is not accessible if you've made further modifications. Remove the custom ad blocker rule(s) and the page will load as expected.