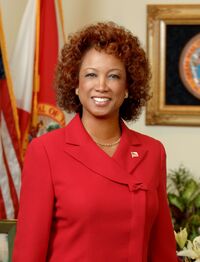 Lydia Marie Spencer Milham (born June 10, 1963, Orange Grove) is the former Prime Minister of Pintona. She was born to parents of Bahamian origin. Having good marks in school, she later entered Grace College where she studied law from 1983-1987. Milham served as a lawyer and judge throughout the 1990s. She joined the People's Party in 1999 where she gained prominence after being elected mayor of Orange Grove in 2002. In 2008, she was elected Prime Minister, signalling the return of the PP to power after nearly twenty years. In 2011, Milham began a plan to introduce state funded healthcare. Opposition by the Centrist Party has slowed it down, but she hoped to get support from the New Wave Movement to pass it through parliament, which she did in 2012.
In 2013, Gilbert Warren, became the Prime Minister.
Ad blocker interference detected!
Wikia is a free-to-use site that makes money from advertising. We have a modified experience for viewers using ad blockers

Wikia is not accessible if you've made further modifications. Remove the custom ad blocker rule(s) and the page will load as expected.