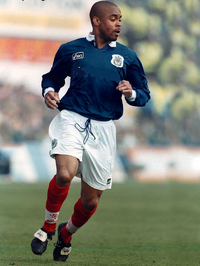 Martin Gayles (born 10 May 1969) is a Pintonan former footballer, widely considered to be the best Pintonan of all time. He played for the Pintona national football team and most notably for teams in the Insel League as a midfielder. He will coach the Pintona national football team at the WFC 2016.
Biography
Edit
Gayles was born in Port Benedict and played for Port Benedict FC from 1986 to 1993, when he joined Kemburger side Cimbrania F.C.. In 1995, he signed for Insel team FK Bäckköping and quickly became an instrumental player in midfield. He won the league title in 1998 and refused a transfer to larger side FK Nyby and signing a new four-year contract. He worked hard as the driver of his team and in 2001, Bäckköping won the league again by two points. By then, the club could not ignore the money being offered for him and he joined Björnby SK, a deal with Brunanter side Arabian FC having fallen through. At Björnby, he would play two seasons, though persistent ankle problems prevented him from making any real impact. In 2003, he was released and joined Union FC, playing until 2007.
Gayles played for the Pintona national football team from 1991 to 2004. He made his debut in qualifiers for WFC 1992 and was instrumental in helping his side to the semifinals. He continued to be called up sporadically for friendlies until 2006. He had 58 appearances for his country and eleven goals when he retired in 2004.
Gayles coached the Pintona national football team at the WFC 2016. He made his return to the championship after 24 years. After the tournament, he remained the national team's coach.