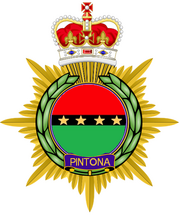 The Pintona Defence Force, also known as PDF, is the military force in charge of defending Pintona's independence and sovereignty. There are 500 members of the PDF. They have three small coastal patrol boats and 50 men in coastal patrol. The other men are in the land patrol. The land patrol has two jeeps and three trucks.
Queen Elizabeth II, the Queen of Pintona is commander-in-chief, represented by the Governor-General (Winton Belgrand). Colonel Charley Roberts is the chief of staff.
In Pintona there is conscription, so every male that is eighteen years old has to do a one month training with the PDF in case there is a war.
The PDF was founded in 1902 as The Pintona Company, replacing British Army troops who left that year. Volunteers served with the British Army in 1918 and from 1939, but from 1944 were sent to Europe as part of the Caribbean Regiment.
Under Prime Minister Abdoul Harlow, the PDF was seen in the streets to quell any possible unrest stemming from the creation of a leftist republic in 1977, but he was assassinated in 1978, ostensibly with the tacit support of the land patrol.
13 Pintonan medical officers and four soldiers served in Multinational Task Force for Lovia during the Burenian Invasion in 2014. They assisted in caring for injured civilians on land and aboard Brunanter Royal Navy ships.
In 2016 the PDF sent 10 medical officers and four soldiers as part of Multinational Force Phaluhm Phoueck to Phaluhm Phoueck during the Phaluhm Muslim Crisis from May 2016. On 27 July, Second Lieutenant Graham George was killed by an IED, during a patrol with a Brunanter soldier who was wounded.
| Land Patrol | Coastal Patrol |
| --- | --- |
| Lance Corporal | Seaman |
| Corporal | Leading Seaman |
| Sergeant | Petty Officer |
| Colour Sergeant | |
| Warrant Officer | Chief Petty Officer |
| Land Patrol | Coastal Patrol |
| --- | --- |
| Second Lieutenant | Sub Lieutenant |
| Lieutenant | Lieutenant |
| Captain | Commander |
| Colonel | Captain |