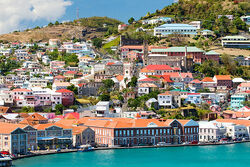 Port Benedict is the capital and largest town in Pintona, with a population of 13,223 people. It was founded in 1501 by Jorge Perez y Garcia and a few Spanish settlers. Abandoned in the 1700s, it was resettled by the British in the 1810s and named after Governor William Benedict.
Port Benny (its official nickname) is divided into the port area, the lower town and the upper town (on the hills). The lower town was settled by whites and was also the site of the government offices. Upper town was settled by the rich blacks and non-slaves.
Port Benedict is divided into three neighborhoods. There is the old Spanish Town, the administrative Lower Town and the Upper Town. There are not many good beaches within the town's limits, so tourists go to Aventador Beach in the south or to the beaches from here to Bonaire Beach.
Port Benedict is twinned with Finskeby in Strasland, Civitas Libertas in Libertas and Carrington in Brunant.