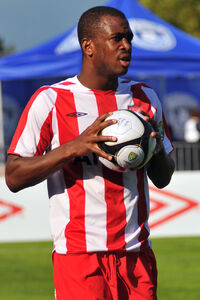 Rasheed Christophers (born August 23, 1986) is a Pintonan soccer player, currently playing for Bluehill United and the Pintona national football team. He is the star forward of the national team and has scored over 60 goals for his team and twelve goals for Pintona, scoring two goals in the WFC 2014 qualifications.
Ad blocker interference detected!
Wikia is a free-to-use site that makes money from advertising. We have a modified experience for viewers using ad blockers

Wikia is not accessible if you've made further modifications. Remove the custom ad blocker rule(s) and the page will load as expected.