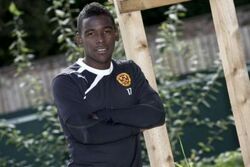 Troy Morrison (April 24, 1994) is a Pintonan footballer who plays for Athletic San Ramon and the Pintona national football team as a forward. He is a young talent and is very skilled. He was born in Margrove and played for Margrove FC since he was young. He is quick and has good control and is potentally going to be heads above any Pintonan in the future. He is so good that he left Margrove FC for Prasian team Athletic San Ramon on loan.
Ad blocker interference detected!
Wikia is a free-to-use site that makes money from advertising. We have a modified experience for viewers using ad blockers

Wikia is not accessible if you've made further modifications. Remove the custom ad blocker rule(s) and the page will load as expected.