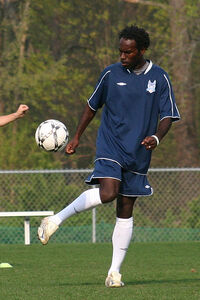 Tyrone De Jonge (6 August 1991 in Port Benedict) is a Pintona football player who plays at Tidby IF in Strasland and with the Pintona national football team. Tyrone was born in Port Benedict and his family is from Curacao. He played for Port Benedict FC between 2010-2012 and for Tidby IF since 2012. De Jonge is a star of the team and he replaced Lester George in the natonal team.
Ad blocker interference detected!
Wikia is a free-to-use site that makes money from advertising. We have a modified experience for viewers using ad blockers

Wikia is not accessible if you've made further modifications. Remove the custom ad blocker rule(s) and the page will load as expected.