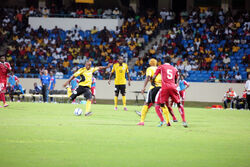 Union Football Club, or Union FC or UFC, is a soccer (association football) club based in West Beach, Pintona. Team was founded in 1974 and they play in the Pintonan League. They play their home games in the Samuel Roberts Stadium, named after former Prime Minister Samuel Roberts of the Centrist Party.
Union FC has two reserve teams, one playing in the Stanley Warren Cup, the national knockout tournament for clubs, and one team with youth players and loaned reserves.
The club has a partnership with Libertan football team FC Molenbeek since December 2014. Dwayne Charles was the first Union FC player that joined Molenbeek.
| No. | Nation | Position | Player |
| --- | --- | --- | --- |
| 1 | | GK | Garrick Gardner |
| 2 | | DF | Delisle Warner |
| 3 | | FW | Agustin D'Arcangelo |
| 4 | | MF | Ralph Lowman |
| 5 | | MF | Dane Johnson |
| 6 | | DF | Kevin Frett |
| 7 | | DF | Nils Tupp |
| 8 | | FW | Saeb Hariri |
| 9 | | FW | Caesar Avondale |
| 10 | | DF | Samuel Smith |
| 11 | | MF | József Hegyesi |
| 12 | | MF | Tunay Deniz (on loan from FC Molenbeek) |
| 13 | | FW | Neville Moodie |
| 14 | | DF | Jevon Castma |
| 15 | | MF | Emmanuel Navarro |
| 16 | | DF | Jean Dussier |
| 17 | | FW | Jeff Martha Smeekens |
| 18 | | MF | Tupac Salaam (on loan from FC Molenbeek) |
| 19 | | DF | Víctor Parisino |
| 20 | | MF | Shane Hodges |
| 21 | | DF | Darius Falavel (on loan from FC Molenbeek) |
| 22 | | FW | Kevin Greenidge |
| 23 | | GK | Hadi Alderi |
Notable former players
Edit