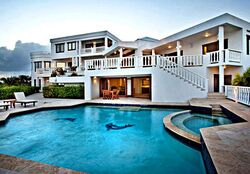 West Beach is a beach area in the west of Pintona. West Beach is popular with rich holidayers to Pintona. It is near Cinco Rios and Cape Mariah. Actors and singers from Brunant and other countries have houses in West Beach, including Marco Loeff.
The settlement has 2058 permanent inhabitants, a major fraction of whom are wealthy foreign-born individuals.
Ad blocker interference detected!
Wikia is a free-to-use site that makes money from advertising. We have a modified experience for viewers using ad blockers

Wikia is not accessible if you've made further modifications. Remove the custom ad blocker rule(s) and the page will load as expected.